Tim Allen says that the ending of the highly anticipated Toy Story 4 is very emotional. Disney and Pixar began their journey with Toy Story over 20 years ago with the release of the first film in 1995. The first film was directed by John Lasseter, who will be leaving Disney at the end of this year.
Toy Story marked milestones for both Disney and Pixar. Not only did the film make an incredible amount of money, but it also stood as the first feature-length film that was made completely with computer-animation. The movie was also the very first film to ever be released by Pixar Animation. All the way back in 2011, Tom Hanks revealed that Toy Story 4 was in development. The film has had its ups and downs these past few years but given Allen's reaction to the story, the movie seems to be making progress.
Appearing on The Talk, Allen got to reveal his thoughts on the next installment of the Toy Story series. When asked about the film, Allen commented that, "it is so emotional, it's so funny, it's so big the idea they've come up with," and that "a couple of the scenes towards the end were really hard to get through." Allen also mentions that he thought the third film was amazing, but Toy Story 4 has an incredible story and great new characters.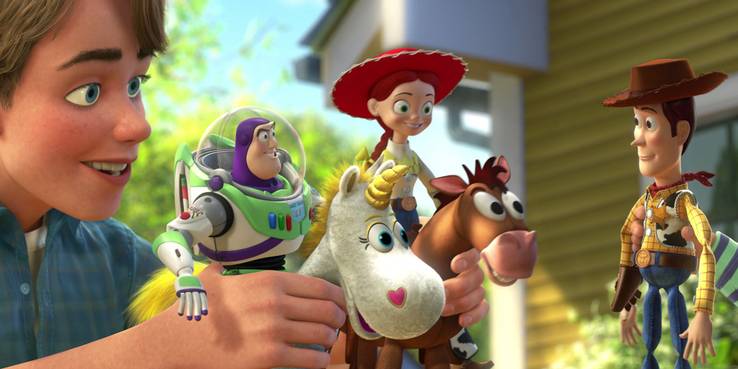 The film has no doubt been an uphill battle for all parties involved. Toy Story 4 had a 2017 release date, but was eventually pushed to 2019 so that The Incredibles 2 could come out sooner rather than later. Actress Annie Potts then explained in June that the film actually got delayed because Pixar was rewriting Toy Story 4. It's also worth mentioning that writers Rashida Jones and Will McCormack left the project over creative and "philosophical" differences, which no doubt played a hand in delaying the film.
With a title as anticipated as Toy Story 4, Pixar is keeping details pertaining to the plot and characters under wraps, but it should be a good sign that Allen seems genuinely touched by the story. The movie was at one point believed to be a romantic comedy about Woody and Buzz finding their lost friend Bo Peep, but with Pixar reworking the script, the film could really be about anything. Toy Story 3 ended with the gang finding a new owner after Andy goes away to college, which was a touching finale to what was thought to be a trilogy. Only time will tell what Pixar has in store for Toy Story fans in the toys' fourth outing.
Toy Story 4 (2019) release date: Jun 21, 2019